ScaleTools is a constantly growing international Business Consulting- and IT-Organization. It was founded in 1995 and is based in Switzerland and has another three international offices in Poland, Ukraine and Bulgaria, today.
The company assists their clients in realizing their strategy through a mix of supplying and delivering industry best practice IT solutions and associated consulting support. The company is specialized on Custom IT-Solution Development providing its clients with all short, medium and long term labor resources necessary to assist in project goal realization.
In doing so, ScaleTools always has the holistic view on a company and its constantly changing environment.
Companies are increasingly operating in an environment of significant change, today. A reason, why change management that naturally affects the whole company from the management level to the enterprise's IT infrastructure has become crucial for every business that aims to stay competitive. In this context, Mergers and Aquisitions (M&A) and a smooth professional post-merger integration have become major topics for CEOs. ScaleTools supports companies in the whole process from the design of a strategy and its implementation.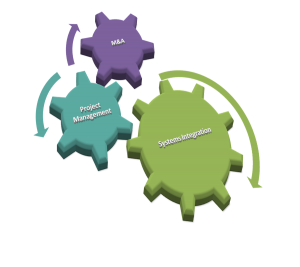 We support your business in the following areas:
Change Management
Mergers and Aquisitions
Post-Merger integration
IT-Solution Development and Setup
Agile Software Development
Customization
Quality Assurance
Project Management
Customer's strategy realization
Check out our detailed services, here.